WALLACE'S MONUMENTAL BATTLE FOR RECOGNITION
For David R Ross it

was

much more than

just another project

. It will be the culmination of a pilgrimage to honour a warrior, a hero and an icon of Scottish nationhood. Ross will leave St Albans and complete the last leg of a 500-mile pilgrimage retracing William Wallace's final journey. The 47-year-old hopes to be joined by hundreds of Scots for a march to the spot where 700 years ago one of the nation's greatest national figures and the undisputed leader of the resistance forces was killed. A private commemorative service will then be held inside St Bartholomew the Greater, the oldest church in London. But

it

will also signal regret for Ross, the convener of the William Wallace Society. Only because of the 700th anniversary of Wallace's death have the public been reminded, albeit temporarily, of the warrior's significance. A historically inaccurate Hollywood film, a few books
and a couple of statues in Scottish towns comprise pretty much everything that bears testament to his contribution to the nation. This year, as every year, there is no national holiday or celebration of Wallace's life.

What irks Ross, the author of the 1995 book 'On the Trail of William Wallace', and other Scottish historians is that too few people know the true story of the man who led Scotland to victory over English forces at Stirling Bridge in 1297. They have been denied that knowledge through an appalling lack of teaching of Scottish history in our schools and a lack of serious attempts to address our indifference. Ross said: "It is a very Scottish thing that we don't want to pay tribute to our past. It is 30 years since I left school but there was no teaching of Scottish history when I was there. I learned about the Battle of Hastings, and then the Magna Carta. I remember the dates 1066 and 1215, but I learned nothing about Wallace."

There is little evidence of change. As a visitor to Scottish schools, Ross's worst suspicions are regularly confirmed. "When you talk to the children they know about 1066. They know nothing about Bannockburn. I really feel that the Scottish Executive should have every school in Scotland put something in the curriculum about Wallace. A Wallace Week would be enough." Chris Brown, the author of William Wallace: The True Story of Braveheart, agrees. He said: "Wallace is inadequately considered in Scottish schools, but then again so are all our major national figures. No other country who produced a character like Wallace would pay so little heed to him. It's like the French not acknowledging Joan of Arc."

In recent years, the political upheaval of devolution has added to the paranoia about officially praising a man whose quest for nationhood helped Scotland break free of its southern neighbour. Labour are wary of the Wallace legend due to its romantic associations with the SNP's cause of Scottish independence. Brown said: "Labour worries about Scottish people knowing too much history because it might encourage people to become nationalists. The SNP on the other hand have a bit of a weepy head approach to our past."

But it is the resulting knowledge vacuum that enabled Braveheart, starring Mel Gibson as Wallace, to become the closest many Scots will come to discovering anything about the man who was born around 1270, probably near Ellerslie, now known as Elderslie. Twice as many websites are devoted to Gibson's portrayal as to Wallace himself, who was not the son of a lowly farmer as portrayed in the 1995 movie. He was instead thought to have been the child of Sir Alan Wallace, a minor laird. Nor is it likely that he wore blue-face paint and met Robert the Bruce on the battlefield at Stirling Bridge. Historical records suggest that Bruce was probably in Ayr that day.

Records of Wallace's life are patchy and often inaccurate. Knowledge of him is largely confined to the years of 1297 and 1298. The decision of Randall Wallace to base the script for Braveheart on the late 15th century romance 'The Wallace', by Blind Harry, ensured a blockbusting tale, vehement in its anti-English tone. Written in 1460, it was the second most popular book in Scotland after the Bible but it did little to aid an accurate historical portrait of Wallace. "Braveheart was a total misrepresentation and a tremendous opportunity lost," said Brown. "The closest it got to accuracy was when Gibson said it was good Scottish weather when rain was falling straight down. The film was complete rubbish."

Wallace's life was more complex than a film script allowed. Initially, at least, he led one group of men, not a country. Other men were central to Scotland winning its freedom. Andrew de Moray led battles in northern Scotland, while William Douglas had fought for independence in the Borders. But in a way denied his contemporaries Wallace is feted across the world - if not in his homeland - for his determination to achieve Scottish freedom. At the Tartan Week festivities in New York, in April, more than 250,000 people flocked to see his sword. It is hard to imagine such devotion in Scotland.

But who was the real Wallace? According to Brown's book, he was a violent man and the leader of a small band of armoured cavalry who raided isolated parties of English soldiers and officials. But he was not stirred to battle because the English had killed his father, as claimed in Braveheart. "Peace had existed for three generations at that time," Brown said. By 1296 Scotland had been conquered, causing deep resentment. Many of the nobles were imprisoned, they were punitively taxed and expected to serve King Edward I in his military campaigns against France. The flames of revolt spread across Scotland. In May 1297 Wallace slew William Heselrig, the English Sheriff of Lanark. Soon his rising gained momentum, as men "oppressed by the burden of servitude under the intolerable rule of English domination" joined him.

From his base in the Ettrick Forest Wallace's followers struck at Scone, Ancrum and Dundee. At the same time in the north, Andrew de Moray led an even more successful rising. From Avoch in the Black Isle, he took Inverness and stormed Urquhart Castle by Loch Ness. His MacDougall allies cleared the west, whilst he struck through the north-east. Wallace's rising drew strength from the south. With most of Scotland liberated, they were prepared for an open battle with an English army.

But Wallace was not a great general. He only fought in two battles. He famously won at Stirling Bridge, alongside de Moray, in 1297, when the English were left with 5,000 dead on the field. He became Guardian of Scotland but the position did not last for long. The Battle of Falkirk on July 22 the following year saw Wallace defeated by Edward's army, and he fled underground.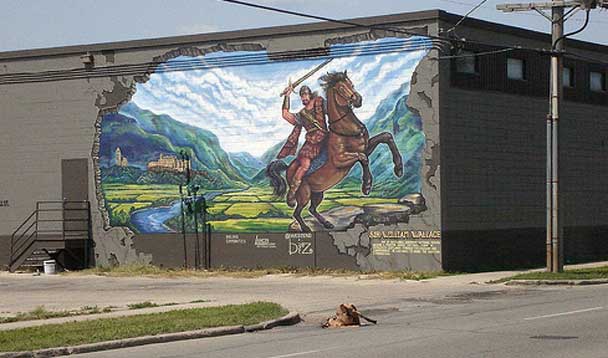 It is thought that the basis of his authority among the people vanished soon after. During his subsequent travels in Europe, Wallace went to France and it is claimed he also met the Pope. But he largely faded away to evade capture, resurfacing in 1304. The following year he was betrayed by Sir John de Menteith while sleeping at a well near Robroyston. Tried for treason at Westminster Hall, Wallace was crowned with a garland of oak to suggest that he was the king of outlaws and declared guilty. On August 23, following the trial, he was removed from the courtroom, stripped naked and dragged to Smithfield Market at the heels of a horse. His terrible fate was surpassed by the grim triumphalism of his enemies' celebrations. Strangled by hanging, but released near death, castrated, drawn and quartered and finally beheaded, Wallace's execution was completed at the Elms in Smithfield, London. His head was placed on a pike atop London Bridge, which was later joined by the heads of his brother, John, and Sir Simon Fraser, who had fought for Robert the Bruce.

The English government displayed Wallace's limbs, separately, in Newcastle, Berwick, Stirling and Perth as a warning to others. But it did not manage to strangle the movement that Wallace had started. Instead he provided inspiration for the man who would help Scotland to victory at Bannockburn: Robert The Bruce. The debate rages on whose achievements were greater but more seems to be known about the latter. Brown said: "They will both be remembered as part of the same movement, but if the Bruce had not been successful at the battle of Methven [in 1306] that would have been the end of his attempt to become King."

Victory at Bannockburn followed in 1314. But it was not until 1328 that the Treaty of Edinburgh and Northampton ended the Wars of Independence. Seven hundred years on, however, academics are united in saying that it was Wallace who started it all and that more should have been done to celebrate the anniversary. Stirling, home to the 220ft high Wallace monument, funded by public subscription and opened in 1869, is one of the few places that has made a concerted attempt to remember Wallace's life.

For Ted Cowan, professor of Scottish History at the University of Glasgow, the 700th anniversary of Wallace's execution should be an occasion to celebrate a great life, yet very little has been done. He said: "Wallace was a true national hero: a phenomenon long before Braveheart. There is no other person in Scottish history who really compares to him as a multi-faceted warrior, leader and charismatic figure. After the battle of Stirling Bridge he went to Hamburg to say that Scotland was open for business again. And yet all the Executive has done is organise a dinner at Stirling Castle and a couple of small events."

For Ross, the journey has convinced him that Scotland remains paranoid about recognising its greatest historical figures. He said: "When I have spoken to Scottish people about doing this walk in honour of Wallace they often assume that I don't like the English very much. George Washington was responsible for breaking English rule in America but I don't for one minute think people who follow him are seen as anti-English. It is almost a Scottish cringe. An extraordinary knee-jerk reaction."
The Society of William Wallace is a Scottish Charitable Incorporated Organisation Registration number SC045959