KILSPINDIE CHURCH FIND COULD BE GATEWAY TO WILLIAM WALLACE'S TIME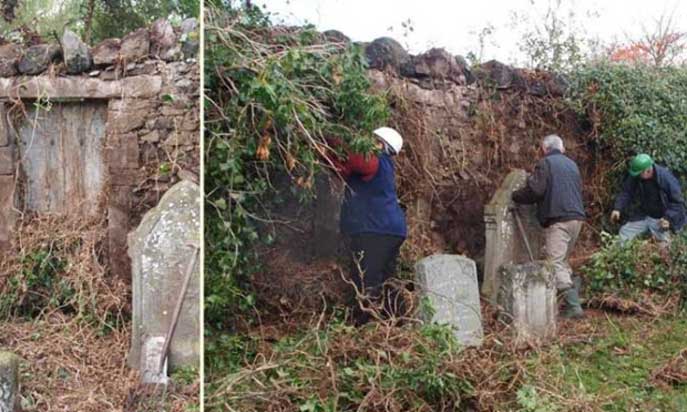 "Workers have uncovered a centuries-old gateway which may have been used by William Wallace. Volunteers hacking ivy from a wall at Kilspindie Church revealed a stopped-up gap which would once have linked the church to the adjacent Kilspindie Castle. The Carse of Gowrie castle was once the home of Wallace's uncle and it is thought the hero of the Wars of Independence may have stayed there for periods of his life. According to the account of his life by the minstrel, Blind Harry, he was educated in nearby Dundee. In 1291, the young Wallace was said to have struck down a young English nobleman on a trip to the city. Having been branded an outlaw, he fled back to Kilspindie briefly but remained a fugitive from the law until his eventual capture by the English 14 years later.
The gateway was exposed as locals worked on the Historic Churchyards Project, led by Fiona Fisher of Perth and Kinross Heritage Trust. She said: ''Hidden underneath the heavy cladding of ivy was an ordinary looking gateway which may have an extraordinary history. The gateway once linked Kilspindie Castle to the church and it is said that Wallace walked through this gateway to the parish church. Kilspindie Farm House is on the site of Kilspindie Castle which was once the home of his uncle. According to the chronicler Blind Harry, who claimed to have based his work on the diaries of John Blair, Wallace's mother's private chaplain, he resided at the castle after the death of Alexander III in 1286, when he would have been 16.'' She does concede it is ''unlikely'' the wall and gateway are the same ones but the possibility remains.
Repairs to the wall, which has collapsed in one place and is leaning and has loose stones in others, are under discussion with the owners of Kilspindie Farm House and Perth and Kinross Council. It is proposed to repair the wall and reinstate the wooden gate. Wallace raised an army and went on to defeat the English at Stirling Bridge in 1297 but was later soundly beaten near Falkirk and captured soon afterwards. He was hung, drawn and quartered in London in 1305. Parts of his body were sent around the country as a warning to other rebels, with one of his limbs sent to Perth for public display."
Our thanks to the Dundee Courier dated October 9 2012, for this article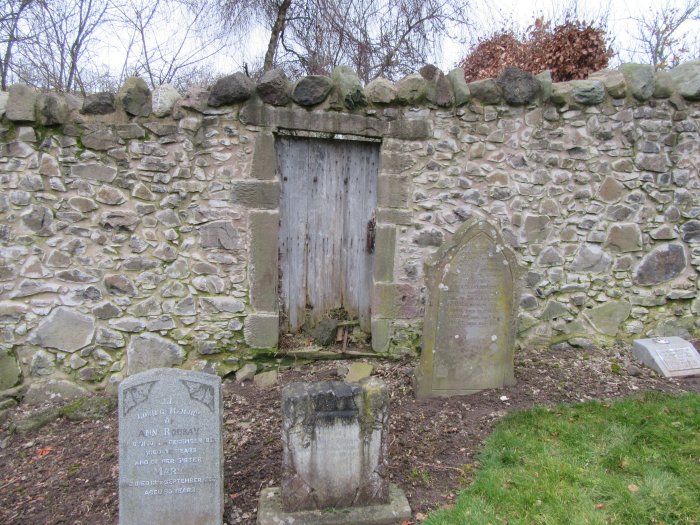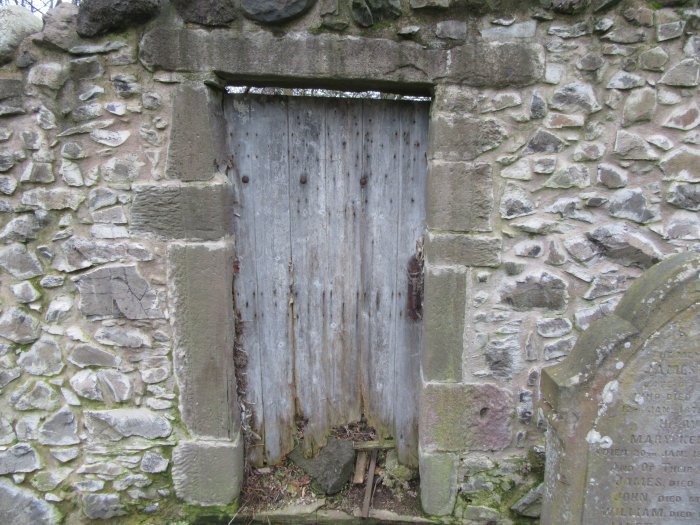 The gateway as it looks in March 2018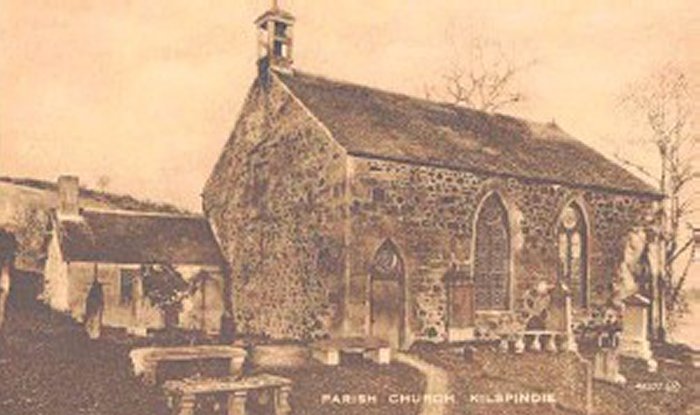 The illustration above is of Kilspindie Parish Church, circa 1900, taken from an article in the Perthshire edition of the Dundee Courier, dated 19th May 2016. Part of the article quotes a Donald Abott of Invergowrie stating; "This church is said to be the fifth church building on this location and the site has close associations with Sir William Wallace, the Guardian of the Realm, with a gateway, known as the Wallace Gateway, formerly located there from the kirk via today's orchard at Kilspindie Farmhouse to the former site of Kilspindie Castle.

There are a number of monogrammed stones from the castle built into the farm buildings of Kilspindie. The nearby quarry at Pitroddie at one time had its Wallace cave. The ecclesiastical provenance of this place is in no doubt and there was certainly a chapel at Kilspindie, which was mentioned in a Bull of Pope Benedict during the reign of King Robert III (1390-406)."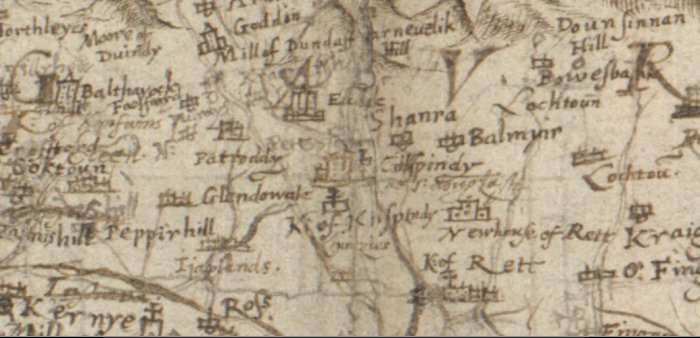 A copy of Timothy Pont's map of the area, dating from 1583-96, the oldest known accurate map of this area. The castle is central, marked as 'Cillfpindy', just above the church marked 'Kilfpindy'.
Another little search provoked by the mention of a Wallace cave at Pitroddie quarry, a short distance west of Kilspindy, found an interesting reference on another website, under the heading East Lothian, which refers to Pitroddie http://www.gsg.org.uk/node/105, as follows:

"Where's Wallace? - It might make an intriguing project for a GSG member to visit and record all the Wallace's Caves in Scotland. There is good location information for some and very sparse for others. One in Glen Farg, Fife was destroyed in 1890 when the railway was built. Another near Pitroddie east of Perth seems to have been mislaid with wildly varying grid references being quoted. John found a description in Chambers' Edinburgh Journal for 5th September 1840 which is reproduced here. It is a first hand account and doesn't match any of the grid references.

"While skulking under the protection of his uncle, he is said to have concealed himself occasionally in a cave within the glen of Pitroddie near Kilspindy. We had lately the curiosity to visit this glen, and to inspect the cave. The glen is wild and lonely, with steep furzy slopes, and a little rill trickling at the bottom. In the face of a porphyritic rock overhanging the rivulet, there is a long slit, which was probably at one time masked with brush-wood. On entering this opening, we find that from the rock hanging over in a screen-like fashion in front, there is room both to stand and to lie in the interior."

Any member with a couple of spare hours could probably walk the length of Pitroddie Glen, or Den as it is named on the OS map, and see if the cave is still there. There are a lot of old quarries thereabouts so perhaps it is another Wallace's cave that is no more."

Something to look into further, perhaps?

And so I did, today (22/3/18). Long investigation on the Ordnance Survey site revealed a rough location (my LandRanger maps proving insufficient as it isn't marked on them). The quarry was in use until after the First World War, and the local whinstone from it was carted to Errol Station in Victorian times to be used as pavements in Dundee. A local resident (there are only a very few houses in Pitroddie - about 6...) told me how to get there, so off I went. Parked up and walked down a track, to be confronted by a fast-flowing burn with a seriously dodgy-looking plank over it. I wasn't going to trust my weight to it, so considered jumping - after all, the bank I was on was a bit higher. But then I considered the return journey... and decided this was a job for a drier day, and when I had my wellies with me. Ho hum...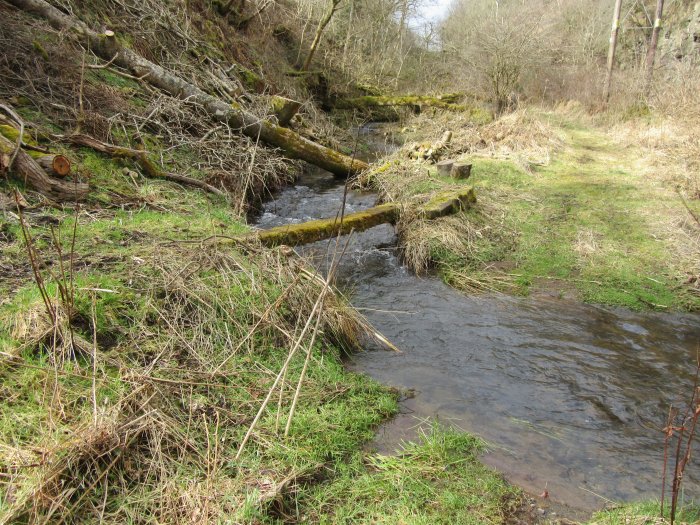 The dodgy-looking plank - no thanks!
The Society of William Wallace is a Scottish Charitable Incorporated Organisation Registration number SC045959