IN MEMORIAM - THE SOCIETY ROLL OF HONOUR
DAVID R ROSS: 28th February 1958 - 2nd January 2010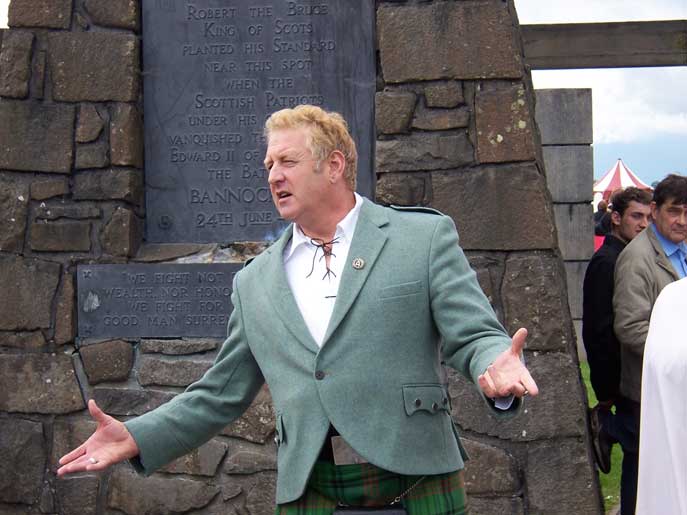 LACHLAN McCANN: 11th July 1959 - 19th June 2013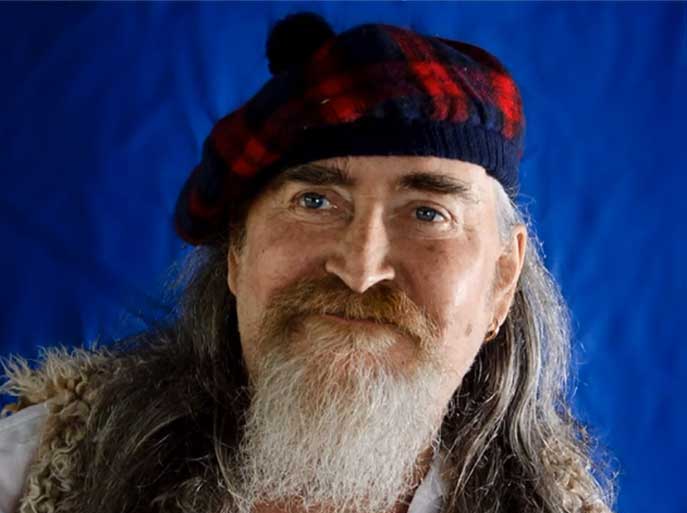 DUNCAN FENTON: 5th July 1956 - 25th May 2014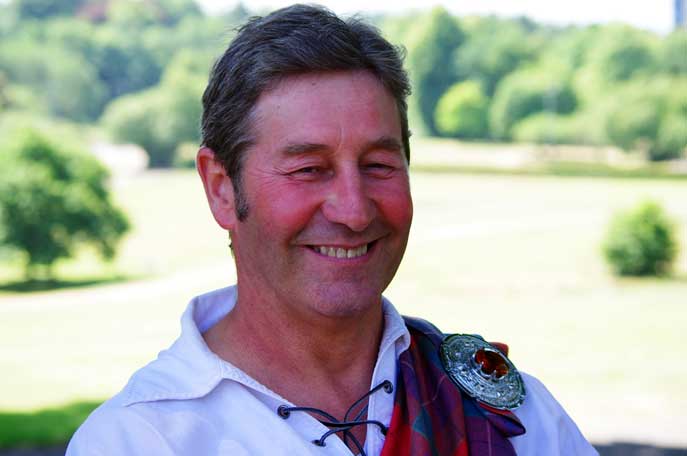 ANDREW HILLHOUSE: 17th April 1964 - 15th April 2018
Andrew Hillhouse beside his masterpiece
It's with great sadness and a heavy heart that the Society announce that our committee member and artist in residence Andy Hillhouse passed away on Sunday Morning at 8.30am. It's such a loss not just to the Society and Scotland but also to his wife Vicky and his son Gus. Andy's work is such an inspiration but it wasn't just that, he was one of the nicest guys I have ever met who did so much work behind the scenes for the Society especially the Bell O' The Brae with the official design for which there was no charge and also the coins he designed with any profit not going to himself but to the Bell O' The Brae cost.

On the 10th year anniversary of the Walk for Wallace it's Andy's work, called the Spirit of Wallace, which is on the Invitations that David sent out.

I remember phoning him one day and admiring a picture he had drawn and he didn.t know which one I was talking about, so I sent it to him only to discover it was drawn by Mark Churms - LOL, he never let me forget that one. He has his drawings at Falkirk and also London on plaques and the Bell O' The Brae monument, so he has left a lifelong legacy that his family and friends can remember him by. It's for all the work Andy has done for the Society that he was presented with the David R Ross Memorial Quaich Award in 2015.

I've known Andy for 15 years and first met him through David R Ross and I was blown away with his art work talent. I remember in a bar discussing the Bell O' The Brae with Andy and him with a blank bit of paper and a pen then 5 minutes later this monument was drawn, it was like watching Tony Hart again. I have no embarrassment in saying I am crying writing this, I got to know Andy and classed him as a good friend and he was a major help in the background, helping me calm down when we were getting messed about by the council. He also knew me well so no chance he would speak to me on a Friday night after a few beers LOL.

Gutted so goodness knows how Vicky and Gus are feeling. Thank you also goes to Vicky to letting me speak to Andy on Saturday night in the hospice as I was supposed to be going to see him on Sunday, glad I got to speak to him one last time. RIP my friend, it was a pleasure to know you but glad you out of pain and up with your fellow fallen patriots in Tir Nan Og, till we meet again my friend, Gary
The East Lothian Courier also published a tribute to Andy here.
CHRIS CHALMERS: 28th August 1967 - 15th April 2018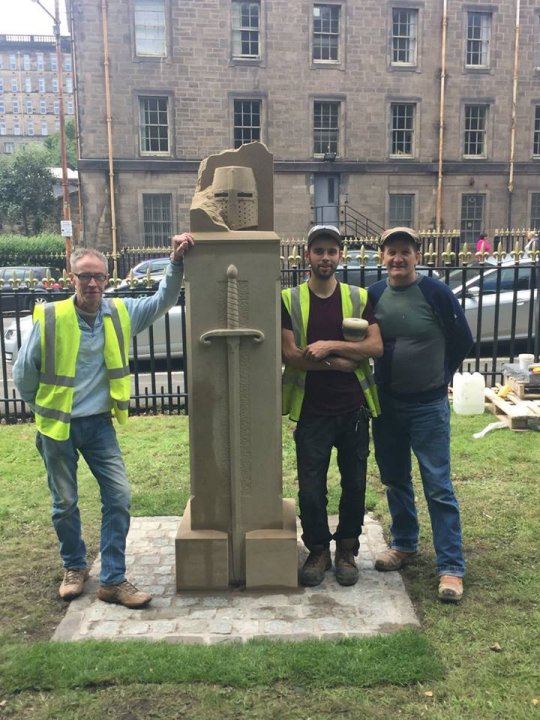 Chris (left) beside his creation
It is with great sadness and a heavy heart that the Society announce that Chris Chalmers passed away on Sunday. Chris was one of the sculptors who carved the Bell O' The Brae. We first met Chris's partner Roddy when we were trying to get Andy Hillhouse's tremendous drawing of the Bell O' The Brae accomplished in stone. Roddy said he could do it and said he would get he and his partner Chris to attend the Rutherglen church plaque unveiling and we could discuss further. Chris's passion for Wallace was there for all to see and he said he would love to be part of it as it was his life's ambition to build a Wallace monument.

I am sure you will all agree what a wonderful job they both did completing the monument and most of you will know I am an emotional type of guy but when we put the monument up the day before the unveiling Chris shed more tears than me. I am truly grateful for the effort and talent that Chris had as the monument is unbelievable and I know Andrew Hillhouse was over the moon with it as was the Society. It was the Society's pleasure to have been involved with so many talented people on the Bell O' The Brae who are sadly no longer with us.

Rest easy, Chris and I'm sure you're telling William Wallace it was you that built his monument in Glasgow in Tir Nan Og. You got your wish to build a Wallace monument and what a legacy you have left for your friends to continue to remember you by - Gary.

WILLIE DOUGLAS: 29th November 1940 - 16th April 2018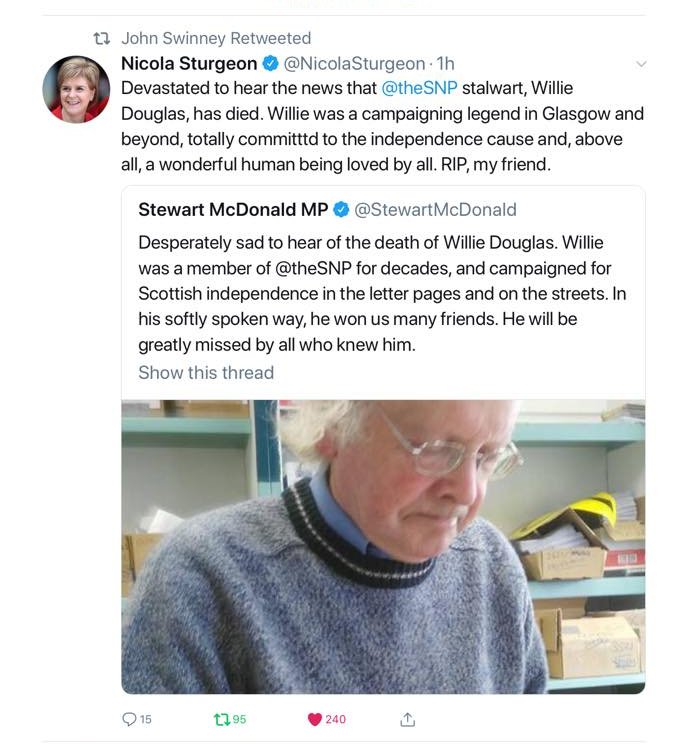 Lovely words from the First Minister of Scotland regarding our late convenor Willie Douglas

It's with great sadness and a heavy heart that the Society announce that our ex Convenor and secretary for over 40 years, Willie Douglas, passed away yesterday morning at 2am. With losing Andy and Chris on Sunday this is not a great time for the Society. Willie was also a committee member of the 1820 Society for over 40 years and knows where the two Societies would be without him, and for that alone I take my hat off to him.

Even although Willie had taken a back seat at The Society he was always at events, especially Wallace Day, and it will never be the same again not seeing Willie there with his wee glass of red wine and his Society T-shirt on having a great time. He may have retired from the Society but his passion for all things Scottish never left him.

I was having a wee chat with him last year when he just said, "nothing major Gary, but you're doing a great job". Now for me coming from a man I had the utmost respect for meant so much to me. When Willie retired and Davy took over with Duncan as Vice Convenor it became very clear to all the amount of work that Willie had been doing to keep the Society going. It's all the back ground work that people don't see and take for granted.

Will miss you at Wallace Day my friend and sure you're up with all your fellow fallen patriots having a cheeky wee glass of red in Tir Nan Og, rest easy my friend till we meet again, Gary.


SEAN DONNELLY: 17th January 1968 - 23rd December 2019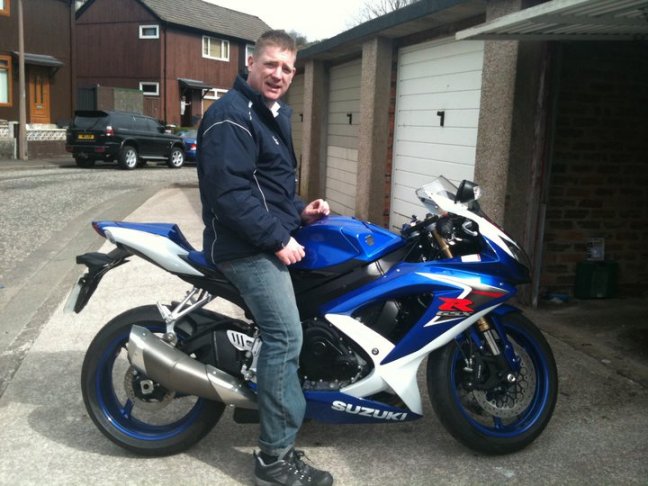 Sean Donnelly
The day before Christmas Eve, a few Society members attended the funeral service of Sean Donnelly, who over recent years was one of our most active members and who, along with Cha Halliday, found and helped save the Port Glasgow Wallace Oak - something I hope all of you know about.

Sean was a massive patriot, very knowledgable about his nation's history, and very active in the Independence Movement. A Greenock boy, of course there was only one league football team for him - Greenock Morton, and naturally our national team, Scotland. Sean was the local man to go to, to get things organised, regularly sorting out buses and accommodation for bus-loads of Scotland supporters, both home and away. He was very active too in support of Morton.

A proud and attentive father of two children, and a doting grandad to three loving grandsons. A great friend to have, always helpful, great company and someone we will all miss. We in the SOWW would like to express our sincere and heartfelt sympathies to Jay, Sean's wife and all his family.

GK

KONSTANTINA RITSOU: Passed 11th January 2022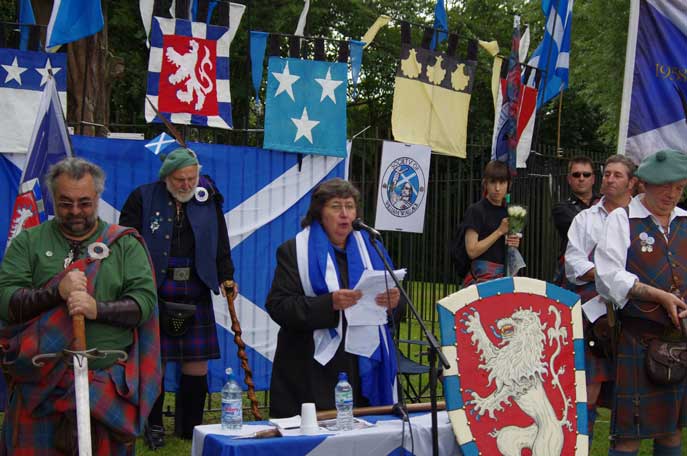 Konstantina Ritsou at Wallace Day 2013
It was with the deepest shock and regret that The Society of William Wallace learned about the death (from Covid 19) of one of the Society's few Lifetime Membership Award holders, Konstantina Ritsou in Athens on 11th January. Dina (as she was known) was a very special lady, and a wonderful friend to the Society, leaving behind many lasting friendships she made in Scotland. She travelled from Greece to speak passionately at Wallace Day at 2010 and 2013, and her words were spoken on her behalf at Wallace Day 2012 and at the Avoch Commemoration in 2019.
The Society of William Wallace was featured on one of her hour long Greek radio station broadcasts, interviewing a number of members of the Society and introducing the Society to the Greek public. She spoke with a deep conviction and passion for Scottish independence and her dramatic speeches, in what was not her native tongue, will never be forgotten by those in attendance.
All the more remarkable is the fact that Dina had survived a massive aneurysm in 2009, and encountered haematological problems in the years that followed. This serious medical condition forced Dina to retire as a doctor of cytopathology in 2010, but it did not quell her drive for life: amongst other things, she wrote three novels and a number of plays including one about Shakespeare that she brought to London; she starred in a number of theatre and television productions; she ran her own theatre company; she was a decorated academic and classical scholar; and she was a translator of of classical and modern plays. Her intention was to live out her life in an independent Scotland.
But even above all of that impressive CV, Dina was a wonderful, warm, generous, inspirational and loving person who believed in the welfare and equality of all human beings, and the right to a respectful life. She aligned herself with the oppressed. Her uncle was Yannis Ritsos, known by his peers as "the best European poet of the 20th century", many of whose words were put to music by the seminal Greek composer Mikis Theodorakis. Dina wrote a very special book in 2011 entitled "The Boy and The Well of Memory" (the Kindle edition only is still available on Amazon), which is a novel with a Greek classical and metaphysical influence written predominantly from the perspective of Andrew de Moray about the quest for Scottish Independence during the days of Wallace, and also in the 21st century. "The Boy and The Well of Memory" was inspired by the young Glen Wood, whom Dina had seen in a SOWW photograph standing by Wallace's Well at Robroyston while she was researching Wallace and De Moray. She travelled to Scotland in order to meet Glen and members of the SOWW, and the warm welcome and encouragement she received led to the writing of the book.
Dina is survived by her mother and her sister, to whom the Society of Willaim Wallace send our deepest respects and condolences. It was an honour for the Society to bestow our Lifetime Membership Award to Dina in 2015 and to see how much it meant to this truly remarkable lady. Not only the Society, but the world is a poorer place for the loss of such a talented and good hearted person. Dina, it was the Society's great privilege to have known you. You were a proud Greek and a proud adopted Scot. To paraphrase your "co-author" Andrew de Moray on the last page of "The Boy and The Well of Memory" - Dina, the bells will sound for you......

Neil Lochiel


The Society of William Wallace is a Scottish Charitable Incorporated Organisation Registration number SC045959