Source: Facsimiles of National Manuscripts of Scotland, Part 2
Published by the Ordnance Survey Office, Southampton 1870
1296 - 1488

VIII. Letter from Robert Hastangis to Edward I, telling of a meeting of Scotch nobles at which Sir David de Graham demanded the lands and goods that had belonged to Sir William Wallace. About AD 1300.

When recorded, this document was stored at the Public Record Office, London.

Click on the pictures to see them full-sized.



With transcription in the original French, and a translation into English below: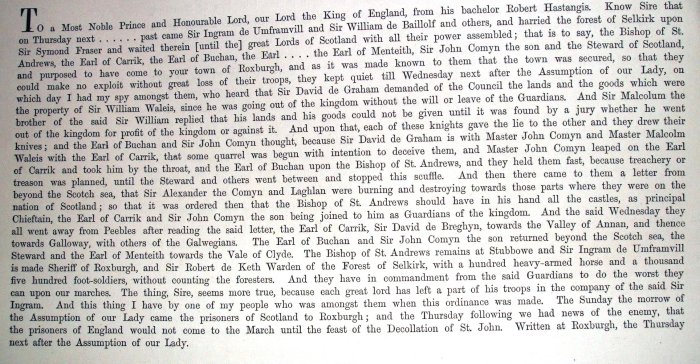 This is quite fascinating, as it mentions Wallace's brother Malcolm, defending Wallace's interests against Sir David de Graham, who allegedly wished to seize Wallace's land and goods whilst he was abroad. It is from around 1300 CE, and we all know where Wallace was in November 1300, after our 7 year campaign to have the French letter returned to Scotland. It is informative also in that there appears to be debate among the nobility as to the legitimacy of Wallace's little foreign jaunt. The letter demonstrates the amount of information being fed to Longshanks by those whose chief interests lay with him as opposed to Scotland. The hostility between Sir John Comyn and the Earl of Carrick (Robert the Bruce) is recorded, despite them being joint Guardians of the Kingdom along with the Bishop of St Andrews. Sir Ingram de Umframvill (sic) seems to be powerful, as most of the lords present left men to help fight with him. The terminology is quite fascinating - the Earl of Buchan and John Comyn "returned beyond the Scotch sea" - a reference to the Forth estuary, which was often referred to as the Scotwater. All in all a very interesting document, and one of very few surviving Scottish ones to refer to Sir William Wallace.


The Society of William Wallace is a Scottish Charitable Incorporated Organisation Registration number SC045959