WELCOME TO THE SOCIETY OF WILLIAM WALLACE
"I have brought you to the ring, now dance the best you can!"
Words shouted by Wallace to the Scottish army at the Battle of Falkirk on the 22nd of July 1298 as the English cavalry began to charge.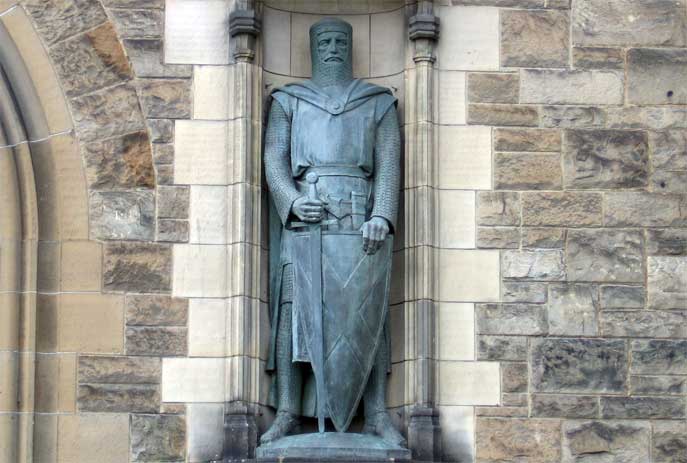 "This statue of William Wallace that flanks the entrance to Edinburgh Castle was the statue that inadvertently gave the inspiration to the movie Braveheart".
The scriptwriter Randall Wallace visited the castle while on vacation in Scotland, and noticed this statue, and was intrigued as the subject had the same second name as his own. He asked one of the staff who this famous Wallace was, and was quite simply told "that sir, is our greatest hero!"
This sent Randall on a quest to discover all he could about this man called William Wallace, and resulted in "Braveheart" being released in 1995.
BATTLE OF THE BELLE O' THE BRAE MEMORIAL

Well that's the stone picked out and cut!! We
here at Society towers are delighted to tell everyone that the Battle of the Belle o the Brae memorial in Glasgow has finally been given the go-ahead, planning permission has been granted now we just need to raise the funds!!

We've commissioned a good friend of the Society, Stone mason Arthur Murdoch, who went and picked out the stone to be used, ably helped by our pals over at the Strathleven Artizans.

Thanks guys, can't wait to see it!!

DAVID R ROSS COMMEMORATION 2014

Thanks to everyone who braved the weather on a miserable day as we remembered our friend David R Ross, still can't believe it's been four years!!

To all the wellwishers online, thank you for your continued kind words and messages of support!

To Gary, George and everyone who attended and said a few words, to Irene for the flowers to Bonny Boyle's Granddaughter Kayleigh for the thistle, great job by the wee one!!

Thank you all, we miss him too x

2013 IN A NUTSHELL

Everyone here at Society towers would like to take this oppotunity to wish all our friends, family and members all the very best for 2014!!

It's an important year for our nation and a challenging one, but we'll do what Wallace did, we'll meet the challenge head on and show no fear!!

Just in case you may have forgot where your donations and memberships go here's a wee reminder!!
Oh and not to mention the Battle of the Bell 'o' the Brae memorial, job done!!

Thank you so much for your continued support!!
NEW SOCIETY ANDREW De MORAY MEMORIAL COIN
This is the second in our series of coins depicting Scotland's favourite sons and daughters. This one features Andrew de Moray who along with Wallace fought and won the Battle of Stirling Bridge, sadly De Moray died of the injuries he received that day.

This coin design was specially commissioned by leading Scottish artist Andrew Hillhouse and is unique, we're sure you'll agree that Andrew has done a wonderful job!!

The coins are approximately 43mm in diameter and 3mm thick, a nice weight to them and very eye catching, the photo doesn't do it justice!! Item comes in a small protective plastic wallet.

Price is £10 on collection or if you'd prefer £13 to have it delivered to your door, this covers P&P and any charges by PayPal, this option is for UK and Europe only.
ANDY HILLHOUSE

A lot of our members and friends of the Society are extremely talented in their chosen field, Andy Hillhouse is one such person.
Andy is an artist of some note and designed the covers of most of the late great David R Ross' books.

We've worked closely with Andy in the past and came up with the idea of showing off some of his artwork to guage the interest, an online gallery if you like.

These prints will not be for sale but if you fancy any of them then please register your interest HERE and we'll see what we can do.
THE WALACE LETTER GETS A PROPER WELCOME HOME!!

Well, the Wallace Letter is now home in Scotland.  Myself & Gary were invited to the Scottish Parliament for the opening of the exhibition, at which the Lubeck Letter was also on show. 

Many thanks to all who turned up at the Scottish Parliament for the return of the Wallace Safe Conduct Letter, around 150 people turned up outside the building as we gave a very personal thank you to all involved in the campaign.  With Albannach & Ted Christopher setting the mood by providing the music, we had fine speeches from Gary, Jim Singer, Mark Hirst & Ted. 

THE WALACE MEMORIAL CENTENARY CENTENARY TARTAN IS OFFICIAL!!

Our Wallace Memorial Centenary Tartan has now been officially registered with the Scottish Register of Tartans and we have to admit that we are slightly chuffed with ourselves.

We'd like to thank in no particular order, Alison Diamond and George MacKenzie over at the Scottish Register of Tartans for all their help.

To Stephanie and William, Chris, George and Gary and to all our wonderful members who have brought to life this wee idea that we should have our own tartan, especially in our centenary year!!

We are currently on our second bolt and are taking orders for our third bolt. If you'd like to register your interest in our tartan see link below.

All we ask is that you become a member and wear it with pride!!

If you are interested in the tartan please register your interest
HERE
EVENTS CALENDAR 2013 - 2014




We're going to leave this at the top of our home page in the future so that everyone can see what we're up to or involved in.

If you have a Scottish related event going on please let us know about it and we'll be happy to add it to our calendar.



To contact the webmaster

CLICK HERE
DAVID R ROSS MEMORIAL FLAG AND HOW TO DONATE

This is a design that one of our members has put together with a view to commissioning a tribute flag for David R Ross which we could carry proudly at future marches, parades and Society gatherings throughout our social calendar each year.

I hope you will all consider my proposal with a favourable outcome.

I have thought very long and very hard about how David's untimely death has had an impact on everyone who met and knew him, both here at home and also abroad in the USA. Thank You, William Ballantyne
Click On Photo To Donate.
THE SOCIETY OF WILLIAM WALLACE ARCHIVES

In here you'll find some things that we got up to stretching back to David's walk for Wallace in 2005.

Some of the waist lines and hair lines have changed a lot and there's some faces that are sadly no longer with us but please have a look and take a wee trip down memory lane.

If you have any old photos of any events we've attended or anything you'd like to share with us then please send them in we'd love to see them.

Please get in touch by clicking HERE
DAVID R ROSS TRIBUTE PAGE

For those of you who may not have known Author, Historian and former Society Convenor David R Ross we thought it might be a nice idea to have this section on our home page to give you an idea of just how important he was to not only his friends but to Scotland as a whole!!

David spread the word on Scotland's wonderfully rich and interesting culture and history far and wide and was especially popular on the west coast of America and Canada.

David continues to be our inspiration!!
This website is dedicated to the memory of DAVID R ROSS & LACHLAN McCANN
They who inspired so many of us now sit with the patriots who inspired them!!