WELCOME TO THE SOCIETY OF WILLIAM WALLACE
"I have brought you to the ring, now dance the best you can!"
Words shouted by Wallace to the Scottish army at the Battle of Falkirk on the 22nd of July 1298 as the English cavalry began to charge.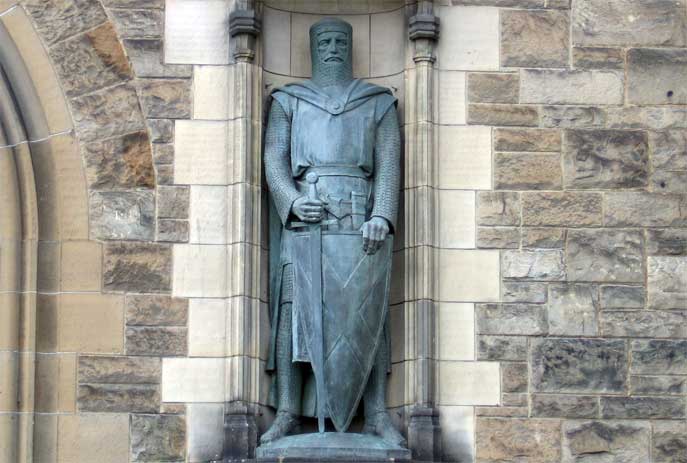 "This statue of William Wallace that flanks the entrance to Edinburgh Castle was the statue that inadvertently gave the inspiration to the movie Braveheart".
The scriptwriter Randall Wallace visited the castle while on vacation in Scotland, and noticed this statue, and was intrigued as the subject had the same second name as his own. He asked one of the staff who this famous Wallace was, and was quite simply told "that sir, is our greatest hero!"
This sent Randall on a quest to discover all he could about this man called William Wallace, and resulted in "Braveheart" being released in 1995.
LACHLAN McCANN FUNDRAISER 2nd NOVEMBER 2013

Not long now till "Thehair in the chair ceilidh"
It's gonna be a rare night wi' music provided by Fiery Jack, Freedom's Flame, Whiterose & The Tonkerers.

All profits will go towards buying a headstone for Lachlan, so if you'd like to come along or make a donation please click on the link below, all donations no matter how small will make a difference!!

 

CLICK ON PHOTO FOR MORE INFO
MARCH & RALLY FOR INDEPENDENCE 2013

Well what can you say when 30,000 sons and daughters of Alba get up off their behinds and march for what they believe in!!

Quite simply not much!! Wonderful to have been a part of it all and something to be very proud of

William Wallace would have been proud of each and everyone that attended on the day.
There's something about getting together with like minded people who only ever have Scotland's interests at heart that is so very good for the soul.
BARMULLOCH GALA DAY 2013

Our annual Robroyston Fun Day had been cancelled, due to there not being enough staff available. 

However, our details had been passed on, & we were asked to attend Barmulloch Gala Day instead & what a braw day it was!!

The weather held firm & the kids & the adults showed a lot of interest in our tent displays & the weapons, aye especially the weapons!!

Lot's of fun & great to spark a wee interest in Scottish history in kids & adults alike!!
STIRLING BRIG' COMMEMORATION 2013

Stirling Brig' is always one of the highlights on our calander and despite it usually being on a Friday night this years march was once again very well attended.
Society stalwart Lesley Mathews was asked to say a few words and once again she had the crowd in the palm of her hands, her reputation is definetely growing.
Special thanks to Ted Christopher who works tirelessly behind the scenes to make sure this event and the evening ceilidh run smoothly, Ted has been the driving force behind this event for years and without him probably wouldn't happen!!

WALLACE DAY COMMEMORATION 2013

Wallace Day in Elderslie this year was such a blast.The feeling of camaraderie & friendship pervaded the whole day & evening.
The sun shone as we set off, led by the fantastic Tulliallan Pipes & Drums. The skirl of the pipes filled the air & the air filled the banners.As we reached the monument, we realised just how big a turnout it was.

After the introductions, the wreath was laid by Amber McCann. Duncan asked for a minute's silence & to also remember our recently departed friend, Lachlan McCann.

SMITHFIELD COMMEMORATION 2013

The Tartan Army were once again out in force in London to support Scotland against the Auld Enemy.
As has become tradition on these proceedings it was only right and proper that we paid tribute to William Wallace while we were there!!
The Society were delighted to be asked to have a representative say a few words at the Smithfield monument.
That honour fell to Big George our treasurer who was absolutely honoured to be asked to say a few words on behalf of the Society, and by all accounts he did a grand job!!

TRIP TO DUNCARRON FORT 2013

American Liaison officer Randy Dedrickson and his wife Barry who joined us at Wallace Day were invited up to Duncarron Fort by the good folk up at Clanranald Trust.
Randy is the trusts representative in the USA and is spreading the word on the marvelous job the gang are doing at Duncarron.
The guys had never been before and it was fantastic to see the look on their faces as Charlie Allan opened the front gates to this magnificent medieval fortress!!
Kids in a candy shop doesn't even begin to cover it!!


LACHLAN'S MEMORIAL PAGE AND HOW TO DONATE

Our dear friend Lachlan passed away after a short battle with cancer, he fought it with his usual guile and fantastic sense of humour.

Those of you who knew hime or spent some time in his company will know what a loss he is, especially to his wife Amber and children.

We will miss him, events will be slightly the poorer for him not being there, the hair in the chair was a special human being and we are accepting donations so that we may remember this man in a style in which he so richly deserves!!

IF YOU'D LIKE TO DONATE TO LACHLAN'S MEMORIAL FUND PLEASE CLICK

HERE
ROBROYSTON COMMEMORATION 2013

Society Convenor Duncan Fenton welcomed everyone to the proceedings once again and gave a brief explanation of Wallace's betrayal and capture a few yards from where we stood.
First up to speak was Society Committee member William Ballantyne, William always gives a great speech and he didn't disappoint us as he gave us his thoughts on the treacherous Menteith and the vile Longshanks.
No-one gives it to you like William does & at 12 minutes he nearly broke his own record!!

MURRON'S CHRISTENING 2013

A sad day and a happy day at the same time, in the very place where we said goodbye to her Father and our very dear friend not that long ago, we celebrated Murron's birth.

There were plenty of smiles and a few tears during the day as we celebrated our own wee dear sweet Murron, ably assisted by plenty of friends and Ted Christopher keeping us entertained with some fantastic music!!
Special thanks to Amber for inviting us all to celebrate in a special day.


FALKIRK COMMEMORATION 2013

Saturday 20th July. A fine sunny day brought patriots out in numbers to take part in the annual Falkirk commemoration.
A wreath laying ceremony for Sir John de Graeme, Sir John Stewart of Bonkyll and the Men of Bute took place in the Old parish kirkyard before the Uphall Station pipe band struck up a rousing tune to signal the start of the procession to the cairn at Callendar park.
Falkirk high street was packed and the people of the town watched on as an assortment of tartans, banners & Saltires passed by.

MEN OF BUTE COMMEMORATION 2013

This Commoration has been going on for a number of years but the Society of William Wallace had never attended en masse, this year we aimed to wrong that right!!

A great day was had by all in an atmosphere that could only be described as convivial and family orientated, great people make great things happen, ordinary people just get the job done, that's what we did today!!

The weather was fantastic, someone up there was obviously looking after us as we basked in the sunshine and returned to the island where our tartan was weaved!!
BANNOCKBURN COMMEMORATION 2013

Our dear friend Lachlan passed away after a short battle with cancer, he fought it with his usual guile and fantastic sense of humour.

Those of you who knew hime or spent some time in his company will know what a loss he is, especially to his wife Amber and children.

We will miss him, events will be slightly the poorer for him not being there, the hair in the chair was a special human being and we are accepting donations so that we may remember this man in a style in which he so richly deserves!!
NEW SOCIETY ANDREW De MORAY MEMORIAL COIN
This is the second in our series of coins depicting Scotland's favourite sons and daughters. This one features Andrew de Moray who along with Wallace fought and won the Battle of Stirling Bridge, sadly De Moray died of the injuries he received that day.

This coin design was specially commissioned by leading Scottish artist Andrew Hillhouse and is unique, we're sure you'll agree that Andrew has done a wonderful job!!

The coins are approximately 43mm in diameter and 3mm thick, a nice weight to them and very eye catching, the photo doesn't do it justice!! Item comes in a small protective plastic wallet.

Price is £10 on collection or if you'd prefer £13 to have it delivered to your door, this covers P&P and any charges by PayPal, this option is for UK and Europe only.
LOUDOUNHILL COMMEMORATION 2013

To all who attended & contributed to this tears commemoration at Loudoun Hill, I'd like to take this opportunity to convey my heartfelt thanks. Sometimes, it's not easy being a Scot. But we were there, no matter what the weather could throw at us.

We are well used to a wee bit soft rain here, but what we endured was a deluge of biblical proportions. It came at us from all points of the compass, mostly horizontally. It was when it blew up from the valley, especially to the kilt-wearers, it caught the breath in mid-speech. However, we survived, as Scots do, & it is a tribute to our mettle that we took it in our stride, gritted our teeth & smiled through it.
ARDROSSAN CASTLE EVENT 27th April 2013

The Society were at the seaside recently to help raise awareness of the sad state of Ardrossan Castle in Ayrshire.

The castle has strong a connection with Wallace and sadly is in severe danger of becoming extinct!!

Most towns in Scotland would kill to have this kind of historical connection with William Wallace, so let's raise the profile of the campaign and get both the council and the locals on board!!

Many thanks to everyon who showed up to help!!
SOCIETY CLAYMORE WINNER SGT MAX JANUSZ

Our heartiest congratulations go to U.S. Army Sergeant Max Janusz, who hails from Wisconsin, shown here accepting the 2012 SOWW William Wallace replica claymore sword (crafted by Bold Blades & Blazons of Shelby North Carolina) from Randy, our U.S. Liaison Officer.
Sergeant Janusz said that when he was in Elementary School, he received a book about William Wallace for Christmas. He was completely captivated by the story and by William Wallace, and read the book over and over again. So when he learned that a replica of Wallace's sword was being raffled off, he just had to take a chance on winning the sword - and win he did!
ANDY HILLHOUSE

A lot of our members and friends of the Society are extremely talented in their chosen field, Andy Hillhouse is one such person.
Andy is an artist of some note and designed the covers of most of the late great David R Ross' books.

We've worked closely with Andy in the past and came up with the idea of showing off some of his artwork to guage the interest, an online gallery if you like.

These prints will not be for sale but if you fancy any of them then please register your interest HERE and we'll see what we can do.
THE WALACE LETTER GETS A PROPER WELCOME HOME!!

Well, the Wallace Letter is now home in Scotland.  Myself & Gary were invited to the Scottish Parliament for the opening of the exhibition, at which the Lubeck Letter was also on show. 

Many thanks to all who turned up at the Scottish Parliament for the return of the Wallace Safe Conduct Letter, around 150 people turned up outside the building as we gave a very personal thank you to all involved in the campaign.  With Albannach & Ted Christopher setting the mood by providing the music, we had fine speeches from Gary, Jim Singer, Mark Hirst & Ted. 

THE WALACE MEMORIAL CENTENARY CENTENARY TARTAN IS OFFICIAL!!

Our Wallace Memorial Centenary Tartan has now been officially registered with the Scottish Register of Tartans and we have to admit that we are slightly chuffed with ourselves.

We'd like to thank in no particular order, Alison Diamond and George MacKenzie over at the Scottish Register of Tartans for all their help.

To Stephanie and William, Chris, George and Gary and to all our wonderful members who have brought to life this wee idea that we should have our own tartan, especially in our centenary year!!

We are currently on our second bolt and are taking orders for our third bolt. If you'd like to register your interest in our tartan see link below.

All we ask is that you become a member and wear it with pride!!

If you are interested in the tartan please register your interest
HERE
EVENTS CALENDAR 2011 - 2012

UPDATED!!




We're going to leave this at the top of our home page in the future so that everyone can see what we're up to or involved in.

If you have a Scottish related event going on please let us know about it and we'll be happy to add it to our calendar.



To contact the webmaster

CLICK HERE
DAVID R ROSS MEMORIAL FLAG AND HOW TO DONATE

This is a design that one of our members has put together with a view to commissioning a tribute flag for David R Ross which we could carry proudly at future marches, parades and Society gatherings throughout our social calendar each year.

I hope you will all consider my proposal with a favourable outcome.

I have thought very long and very hard about how David's untimely death has had an impact on everyone who met and knew him, both here at home and also abroad in the USA. Thank You, William Ballantyne
Click On Photo To Donate.
THE SOCIETY OF WILLIAM WALLACE ARCHIVES

In here you'll find some things that we got up to stretching back to David's walk for Wallace in 2005.

Some of the waist lines and hair lines have changed a lot and there's some faces that are sadly no longer with us but please have a look and take a wee trip down memory lane.

If you have any old photos of any events we've attended or anything you'd like to share with us then please send them in we'd love to see them.

Please get in touch by clicking HERE
DAVID R ROSS TRIBUTE PAGE

For those of you who may not have known Author, Historian and former Society Convenor David R Ross we thought it might be a nice idea to have this section on our home page to give you an idea of just how important he was to not only his friends but to Scotland as a whole!!

David spread the word on Scotland's wonderfully rich and interesting culture and history far and wide and was especially popular on the west coast of America and Canada.

David continues to be our inspiration!!
This website is dedicated to the memory of DAVID R ROSS & LACHLAN McCANN
They who inspired so many of us now sit with the patriots who inspired them!!